A Playaway is an audiobook that comes on a small, easy-to-use portable device. All you need is a set of headphones, earbuds or a speaker to plug in and listen.
You may have seen thse orange Playaway cases on the 2nd and 3rd floors of the library and wondered about them.
The buttons let you power on and off, play, pause, adjust volume, fast forward, rewind, skip ahead or back and even change the speed of the narration. If you pause or power it off and come back to it, it will pick up in the book right where you left off last time.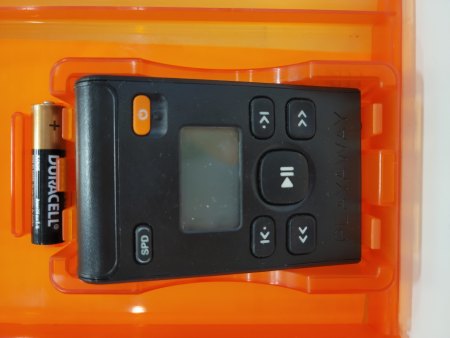 These are great for audiobook lovers who don't want to be tethered to a CD player, or whose book of choice maybe isn't currently available on our other e-audiobook platforms like Libby or Hoopla. Maybe there's a long holds list, or maybe you simply prefer not to use ebooks via your phone.
It's very simple to use with no other bells and whistles if you don't want to be bothered by anything else.
You can even plug this into your car speaker with an aux cord and listen while you're in the car.
It's a great little device for kids, for older people, and everyone between.
I've found it to be great to use while relaxing, doing chores, walking the dog, or even working out.
If you think this might be for you, I encourage you to check one out and see if you like it!
We have fiction and nonfiction playaways on the 3rd floor for adults and on the 2nd floor for kids.