Des Plaines Public Library trustees have approved a 2022 budget including a $300,000 expenditure to replace a 21-year-old chiller system and increasing the property tax levy to $6.4 million, from $6.1 million in 2021.
DOWNLOAD A PDF OF THE 2022 BUDGET
The current chiller system is beyond its expected lifecycle and is in urgent need of replacement.
It regularly breaks down, stops cooling, and creates potentially hazardous conditions in the building for residents and staff.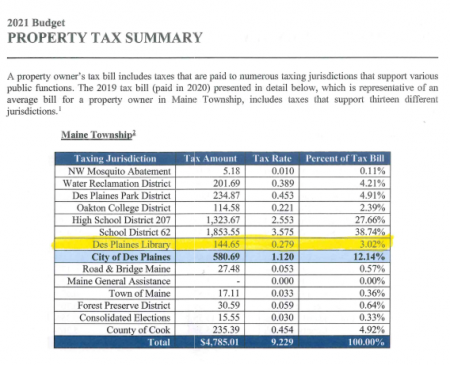 The 2022 levy request increases the amount the average Des Plaines household pays by approximately $13.
The library's portion of a resident's tax bill remains significantly less than that of other taxing bodies.
This is the first time since 2011 the library has increased the levy, except for a small 1% adjustment in 2018.
Over the past eleven years Des Plaines Public Library has reduced the taxpayer levy from a high of $6.5 million in 2011 to $6.1 million, a levy amount it has held steady since 2014.
During that time, the library has drawn upon reserves to meet the challenge of increased expenditures, including rising insurance costs, minimum wage requirements and standard building maintenance and replacement costs associated with an aging building.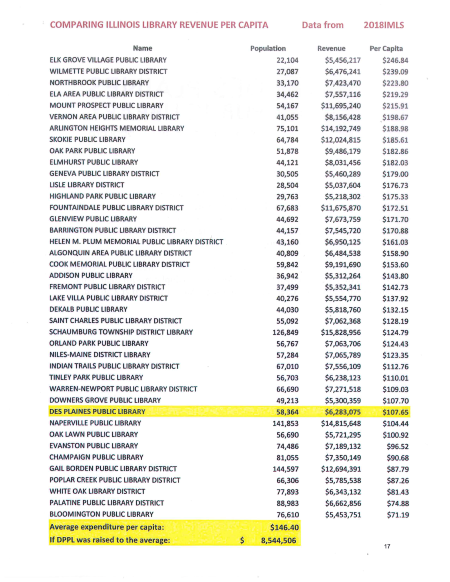 DPPL Board President Dr. Gregory Sarlo says:
"In the past the library has been able draw upon reserves to keep the library operating and serving the residents of Des Plaines at the level they deserve without asking taxpayers for additional support.

DPPL was recently awarded a 4-Star Rating one of just 16 in Illinois and 246 nationwide. Library staff has done an extraordinary job delivering award-winning services with below-average per capita funding, compared to other libraries in the area."
DPPL Board Treasurer and Finance Committee Chair Kristen Graack adds:
"The bottom line is we have spent down excess reserves and the library building is now 21 years old. We cannot defer the replacement of the chiller system any longer. Doing so would not be a responsible stewardship of taxpayer funds.

Additional mechanical and building infrastructure replacements are on the horizon. We must be forward thinking and plan for these projects with appropriate funding to set the library up for stability."
Future capital projects in 2023 and beyond include replacement of the heating/boiler system, upgrades to the building access system, replacement of servers and switches, and replacement of the security camera system.
In the course of drafting the 2022 budget library staff eliminated all non-critical spending to minimize the impact purchasing a new chiller will have on taxpayers.
Library Director Jo Bonell says:
"We work hard to provide Des Plaines residents the most bang for their buck."

"The amount of total revenue we have to work with this year ($6.3M) is $600,000 less than the library operated with ten years ago in 2011 ($6.9M). And yet we've been pretty darn successful. Our mission is to provide Des Plaines 4-star service and I believe we've achieved that."