Looking for personalized book suggestions, but no time to stop by the Readers' Services Desk on the 3rd Floor? We can help!
Simply fill out the online BookVine form, and our Readers' Services Team will get back to you (via email) in 5 – 7 days, with 5 – 10 books picked out just for you.
Fill out as much of the form, or as little as you like. Just remember, the more information you give us, like your favorite authors or subjects, the better our suggestions will be.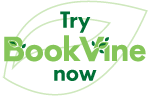 If you have any questions about BookVine, please contact the Readers' Services Desk at (847) 376-2840, or send us an email at BookVine@dppl.org.
Please note: Our BookVine service is for patrons ages 13 and up. If you are under 13, please stop by our Youth Services desk on the 2nd floor and our staff will be delighted to recommend great titles to match your interests!
See what we've already picked!
Visit our BookVine Vine account to see what titles we've picked for BookVine users already, or visit our BookVine board on Pinterest for direct links to the catalog for each recommended title!
This is just one of many: