Get out your library card, and sign up for Universal Class!
It's easy to learn something new in a simple, organized fashion with this program using a computer or a mobile device. Universal Class provides access to over 500 classes that range from technical to homespun. Classes can be taken two different ways, each self-paced. You can work toward a certificate of completion or take the class with less structure, without assignments and just for the joy of learning.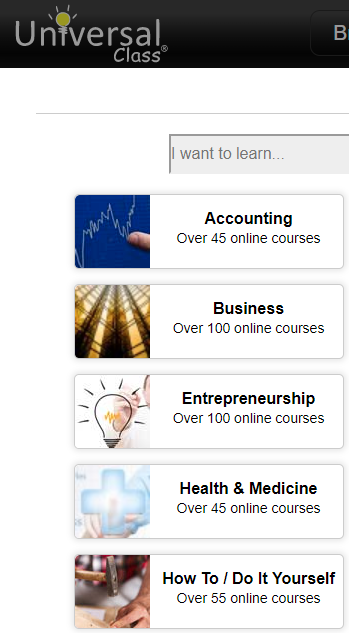 The choice of topics is vast. Practical Microsoft Office software courses abound. Google sheets, Google docs, Google analytics in addition to all types of computer programming courses are available. The real delight is the offering of enrichment classes. History, career development, entrepreneurship, as well as, how to meditate, paint, write.
You can access Universal Class a few different ways. The first step is to use the library's website and create an account with your library card. Creating your account with your library card insures that you get free access. Go to Resources - All Resources - Universal Class
From that registration page, you can jump in and take a course. Bookmark the page on your computer and you have mastered one of the ways to use Universal Class.
The other way to use Universal Class is through the Overdrive Libby app on your mobile device, or the Overdrive Libby app browser link. Look for the EXTRAS section to find Universal Class. Using this method allows quick access to the course content when you are on the move or if you are a frequent Libby ebook or audiobook user.
Try it out and let us know what you've learned. If you have any questions, feel free to call us at 847-376-2841