I have very distinct childhood memories surrounding board games.
They encompass everything from imagining what a real life Candy Land would be like, flexing my spelling muscles with Boggle and Scrabble, figuring out gravity via KerPlunk, and how to be a good sport about losing Rummikub for the thousandth time to my math-minded sister (truth bomb: I've never been a good loser).
Board games were an important part of my growth and learning, and as an adult they are often what brings friends and family together for a day or night of tremendous fun.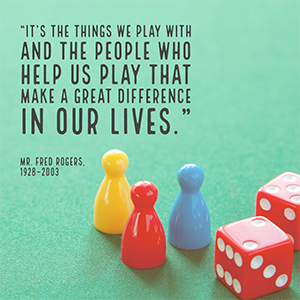 Anyone that has attended Family Fridays: Game Night knows that we have cultivated a rich collection of family games for all ages.
In an effort to keep the family fun going and keep growing minds learning, we are beginning a circulating collection of educational board games for our community to enjoy.
Our hope is that families can enjoy playing games together, building on concepts such as sharing, cooperating, critical thinking, problem solving, and communication.
Of course, there will be a considerable amount of fun to have along the way!
Visit the second floor to take a look at our growing board games collection for families with kiddos aged toddler and up.