When do kids get to have their voices heard?
Most of time, adults are the ones everyone listens to.
Adults get to vote and have their say in elections.
The awards given to books (like the Newbery and Caldecott) highlight beautifully written and illustrated books, but who picks them? Adults!
Not the Monarch, Bluestem, and Caudill awards though.
These are special, kid-chosen awards.
Potential titles are submitted by kids, teachers, and librarians. Committees read the books and end up picking 20 for each list.
So how do kids vote?
By reading!
Let's back up and talk about who each award is geared towards.
The Monarch is for kids in Kindergarten through 3rd grade, Bluestem is for 3rd-5th grade, and Caudill is for those in 4th-8th grade.
Each list has 20 books--books that reflect a wide range of subjects, styles, and voices.
Reading books on the award lists is a wonderful way to pick up a book you might not normally try.
Kids read (or listen to) the books on the list and fill out the booklet that's for the award they're working on.
We want kids to rate the books, 5 stars means it's their favorite!
Then circle the book that THEY think should win the award!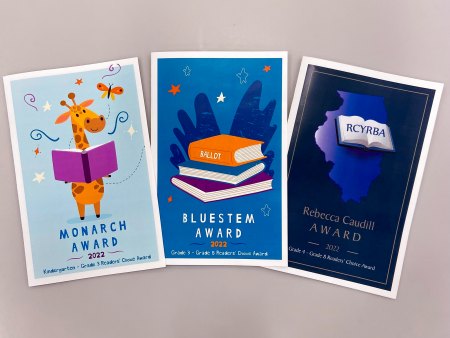 Kids working on the Monarch award have to read 5 books on the list to be able to vote.
Reading the Bluestem? Read or listen to 4 of the titles on the list to vote.
Caudill readers need to read or listen to three of the listed titles to vote.
Turn in the brochure to make your vote count!
Interested in getting a copy of the winning Monarch, Bluestem, or Caudill book?
Read even more!
If you read all 20 books on the Monarch list, you'll earn a copy of the 2022 Monarch winner.
Just make sure to read and mark off the brochure.
Bluestem readers? Read 10 of the nominated books to earn that copy of the 2022 Bluestem winner.
Kids working on the Caudill list also need to read 10 nominated titles.
Voting is open to all, from birth through 8th grade.
While each award is geared towards a particular age group, if a 5th grader wants to participate in the Monarch award, that's great!
Simply read all 20 and fill out the brochure.
Each child is limited to only earning one free book though (meaning you can't get a copy of the Bluestem and Monarch winners).
The last day to turn in completed brochures is March 6 2022.
If you can't get into the library, vote online here.
Not sure where to start?
Here are some of my favorites from the Monarch, Bluestem, and Caudill lists.