There are still sunny days ahead, even if some of them will have us bundling up a bit!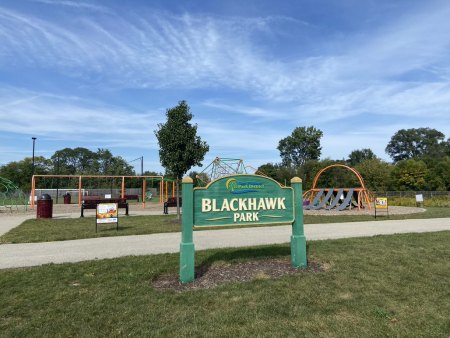 We're excited to bring you another great picture book to read as you enjoy one of Des Plaines' great parks!
Head over to Blackhawk Park to enjoy reading Maybe Something Beautiful by Isabel F. Campoy while you play in the park.
Planning for our library and the Des Plaines Park District to collaborate on a StoryWalk® began long before social distancing and trying to find ways to socialize safely became the norm.
The StoryWalk® Project was created by Anne Ferguson of Montpelier, VT and developed in collaboration with the Kellogg-Hubbard Library.*
Since it was launched in 2007, they have been installed all over the country and the world in libraries, parks, and various other public venues.
We took the basic concept - walk around the path reading a picture book - and added a bit of play and conversation for those sharing the story.
Each sign has a question or activity to go along with the book pages.
Participants in our spring 2021 StoryWalk® are asked to share how they feel with each other, swim from one sign to the next, search for a heart, and more as they continue enjoying the book. We hope you have fun!
This is all about encouraging early literacy, physical activity, and having a great time together in the great outdoors!
Long term, we hope to bring you different StoryWalk® installations at various parks in the Des Plaines area throughout each year.
Keep an eye on our social media for StoryWalk® announcements.
*Storywalk® is a registered service mark owned by Ms. Ferguson.