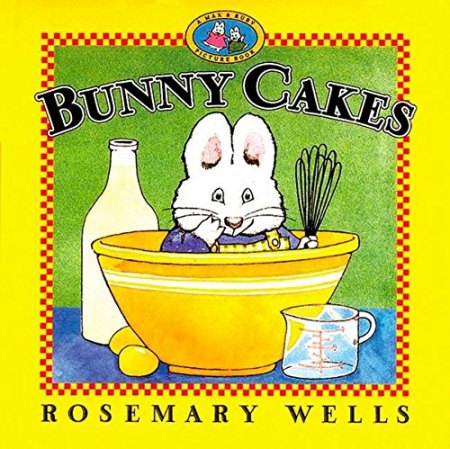 This week on the Great DPPL Bake Along:
Patron Accounts Assistant Michelle makes Angel Food Cake, inspired by the delicious looking cake in Rosemary Wells's book Bunny Cakes.
THE BOOK
"It was Grandma's birthday. Max made her an earthworm birthday cake.

'No Max,' said Max's sister, Ruby.

'We are going to make Grandma an angel surprise cake with raspberry-fluff icing.'"
Reserve the book here.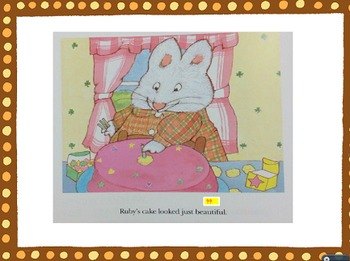 Bunny rabbits are my favorite animals, so growing up, I loved reading Rosemary Wells's Max and Ruby books.
One of my favorites is Bunny Cakes.
While I am more of a cookie connoisseur, I always thought that the angel food cake that Ruby made looked absolutely delicious.
So, I decided I would finally try this unique cake.
THE MAKE
I retrieved the recipe from this website.
Here are the ingredients you will need (make sure you have enough bunny money before going out shopping!)

1-1/4 cups egg whites (about 9)
1-1/2 cups sugar, divided
1 cup cake flour
1-1/4 teaspoons cream of tartar
1 teaspoon vanilla extract
1/4 teaspoon almond extract
1/4 teaspoon salt
Not needed, but extremely helpful to have: tube cake pan or angel food cake pan. See tips and tricks below if you do not have a tube cake pan.
DIRECTIONS
1. Place egg whites in a large bowl; let stand at room temperature for 30 minutes. Be careful not to get any of the yolk or egg shell into the egg whites. Go slowly and gently transfer the yolk from one half of the cracked shell to the other to obtain all of the egg whites from the egg.
2. While waiting for the eggs to sit, sift 1/2 cup of sugar and all of the cake flour together twice.
3. Place the oven rack in the lowest position. Preheat the oven to 350 degrees. Add cream of tartar, vanilla extract, almond extract, and salt to the egg whites.
4. Beat mixture on medium speed until soft peaks form. Gradually add remaining sugar, about 2 tablespoons at a time, beating on high until stiff peaks form. What is a peak, you ask? I had to look this up too. Peaks are when a mixture has been whipped long enough to become stiff, not runny. Soft peaks are when the ends of these mounds curl over, while stiff peaks stay straight up.
5. Gradually fold in flour mixture, about 1/2 cup at a time. Folding is a technique where you lift both the flour and mixture together so that they combine.
6. Gently spoon into an ungreased 10 in tube pan. Cut through batter with a knife to remove air pockets. Bake until lightly browned (around 35-40 minutes). To make sure it is done, take a spoon and lightly press down on the top part of the cake. If the indentation bounces back, the cake is done. If the cake does not bounce back, bake for a few more minutes.
7. Immediately invert pan and cool completely for 1 hour.
8. For the glaze, I mixed together powdered sugar with about 4 tablespoons of milk. Add more sugar or milk until desired glaze texture is achieved. I then put one drop of red food coloring into the mixture to make a nice pink glaze, just like Ruby's cake in the book.
9. Add desired decorations. If you are going for an authentic recreation, you will need birthday candles, silver stars, candy hearts, and buttercream roses.
TIPS and TRICKS:
If you do not have a tube pan, a link to a create-your-own tube cake pan can be found here.
If you do not have cake flour, you can make it with regular flour and cornstarch. The full directions can be found here.
When folding the flour into the egg white mixture, be sure not to mix or stir. Gently lift and fold over the mixture so that the flour is gradually combined.
For even more Max and Ruby fun, check out these other books involving the bunny duo!