Refer-a-Friend: September is Library Card Sign-Up Month, Tell Your Friends!
September means it's time for Library Card Sign-up Month.
Celebrate by signing up for your own library card and be entered for a chance to win a $25 gift card to local Des Plaines restaurants!
But what if you already have a card?
Starting in September, current DPPL cardholders can come into the library and pick up a Refer-a-Friend postcard to invite a friend to register for their own library card!
As a current cardholder, you will fill in your information on the Referred By side and then pass it along to your friend, family member, or neighbor.
They will bring it in with them when they come to the front desks on the 1st floor to sign up for a new library card and you BOTH will be entered into the gift card raffle!
To be eligible for a new card, you must live within the DPPL taxing district.
Let everyone know all the amazing things they can get with a DPPL library card!
We have new physical books, movies, video games, music and more!
Grab a board game or browse all the amazing online resources you can access at home or on our public computers!
Ask one of our friendly librarians about new audiobook and e-book releases!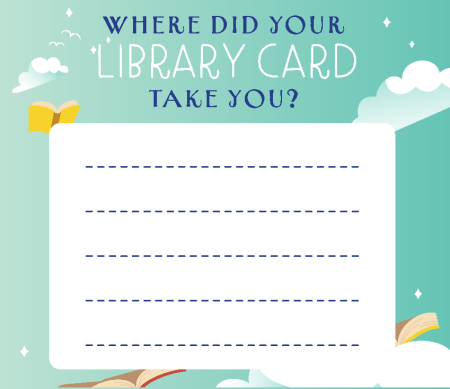 Checkout our collection of Library of Things and devices such as Cricut maker, a Jewelry Crafting Set, Kindles, Launchpads, Wireless Internet Hotspots, the Apple TV 4K (5th Gen), a GoPro Hero+ LCD, and more!
Need more information about library cards? Find more details here.
And while you are here:
Be sure to stop by the lobby throughout the month of September and tell us all the places YOUR library card takes you!
We hope to see you soon!