Des Plaines Public Library has been named a 4-Star Library by Library Journal.
Just sixteen Illinois libraries were awarded 3-Star, 4-Star, or 5-Star designations this year. 262 libraries were awarded Star rankings nationwide.
5,608 public libraries nationwide qualified to be rated in the LJ Index.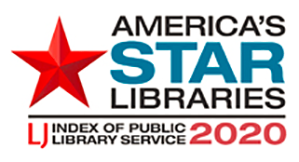 This is the first year "retrievals of electronic information" —measuring usage of online content, such as databases, other than by title checkout - was included in the calculations.
Physical circulation, circulation of electronic materials, library visits, program attendance, public internet computer use, and Wi-Fi session, are also used to cultivate scores and award star status.
"We are delighted by the high rating. The staff has been working diligently to enhance our materials and services, and it's a tribute not only to staff but also to the Des Plaines community who value these resources and ask for more."

- DPPL Library Director Jo Bonell
In recent years Des Plaines Public Library has prioritized providing residents of Des Plaines one of the largest and most expansive collections of "e" resources, database and online learning resources in the state.
DPPL staff have purposefully grown the library's collections of eBooks, eAudiobooks, eMagazines, streaming video and music services to meet ever-growing demand.
DPPL also offers residents the best free access to streaming films and TV available including ACORNTV, IndieFlix, Kanopy and Hoopla.
Find a complete roundup of all these collections at dppl.org/ebooks-more.
Des Plaines cardholders also enjoy free access to, and heavily use, the premium database services DPPL offers.
Ancestry, Consumer Reports, digital editions of the Chicago Sun-Times, Chicago Tribune, New York Times, and Wall Street Journal, Creativebug, HelpNow tutoring, Lynda.com, Mango Languages, Morningstar.com, and Value Line Research Center, are among the most popular.
Explore them all at dppl.org/resources.
In addition to connecting residents to an abundance of digital resources, DPPL continually works to simplify access to digital resources and teach residents how to use, enjoy and benefit from them.
DPPL offers residents a wide range of l technology instruction, including live classes in the DPPL Forum training center and on Zoom and the DPPL on Demand video series.
Residents can also get live one-on-one assistance by telephone during regular library hours by calling 847-376-2841.
For me, the four stars are proof that our library is so much more than a building. The 21st century public library is a connection point between the community and information of all types, in all formats, delivered in all sorts of ways. How else can you explain that the library is thriving in the middle of a pandemic?

- DPPL Library Director Jo Bonell