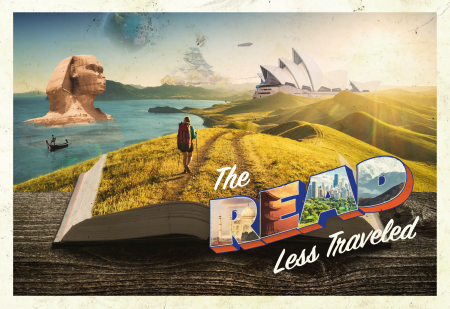 The Readers' Services team is so excited to announce the theme for our 2022 Winter Reading initiative...The Read Less Traveled!
What does that mean?
A "read less traveled" is a book that transports you to a new place, country, or culture.
Reading translated works and international authors is a great way to learn about other cultures—and maybe even discover a favorite new author.
We can't wait to hear about the new books and authors you discover!
So, how can you participate?
1. Read a book, get entered into our Winter Reading raffle.
If you read ANY book during this time period, you can enter our Winter Reading raffle to win a prize. It does not have to fit into our "Read Less Traveled" guidelines.
2. Trivia!
Answer our weekly trivia question for more chances to win. Trivia answers can be submitted at the 3rd floor desk, via email, or messaged on Facebook or Instagram.
3. Read 4 books that transport you to new places!
These are books set in other countries, that take place in cultures other than your own, or that were translated from a language you don't speak.
Everyone who reads four less-traveled books will win a beanie (while supplies last) AND an entry for a chance to win a gift card to an international restaurant.
To participate, pick up a bookmark at the 3rd floor reader's services desk and tell us what four books you read.
Then, turn it in at the desk once you've finished reading the four books and we will give you your beanie.
No sign up is required to participate!
All adults and teens (grade 7-12) are welcome to participate.
Winter Reading starts on January 7, 2022 and ends March 6, 2022.
Submit entries at the 3rd floor desk, by email at Winter@DPPL.org, or by messaging us via Facebook or Instagram.
Not sure which book to start with?
Check out this great list of international books in our collection to get started: